YAKITORI
Marinated chicken skewer, cooked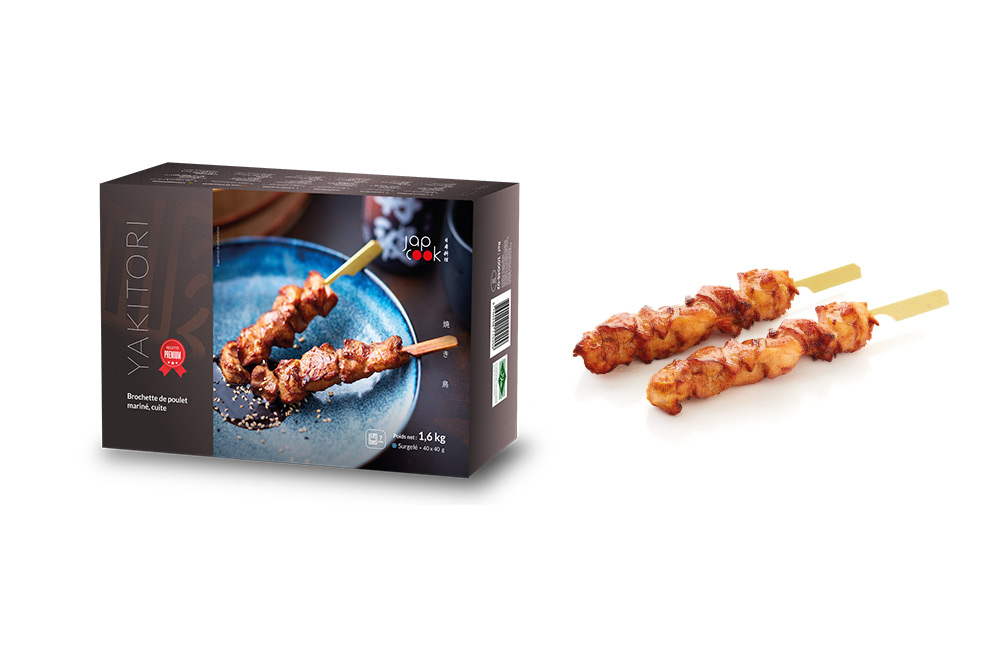 INGREDIENTS
PUREN (PLAIN)* : chicken thigh meat 81%, soy sauce (water, soya, wheat, salt), glucose-fructose syrup, brown sugar, water, acidity regulator : sodium bicarbonate E500ii, potato starch, salt, acidifier: lactic acid E270, maltodextrin, sugar, acidifier: sodium citrate E331, anti-caking agent: silicon dioxide E551, RSPO-certified palm oil
You can coat the Puren skewers yourself with a sweet soy sauce.
Microwave
Place 2 frozen skewers in a suitable container.
Heat at 900W for 2 mins 30
Oven
Pre-heat your oven to 180°C (gas mark 6).
Arrange the skewers on a baking tray lined with greaseproof paper. Place in the middle of the oven and cook for 7 mins.
Manufacture
Thailand, Romania
Origin
Chicken: Thailand, Poland, Lithuania, Latvia, France
Does not contain
flavour enhancer
Frozen
Store at -18°C – Store between 0 and 4°C once defrosted
CONDITIONNEMENT
Information not available on mobile
Ref
Target market
Weight/unit
No. of pieces/SKU
Net SKU weight
No. of SKUs/box
No. of SKUs/pallet
PUREN (PLAIN)
100003
Food Service
30 g
50
1,5 kg
–
208
100048
Food Service
Cash & Carry
40 g
40
1,6 kg
100048-00-01
6 (ready to sell)
288 (American pallet)
100048-02*
6
216
100066
Food Service
25 g
70
1,75 kg
–
234
100069
30 g
60
1,96 kg
300001
Retail
20 g (+ 50 g of sauce)
8
250 g
10
1120
TARE (COATED)
100045
Food Service
48 g (40 g + 8 g of sauce)
40
1,92 kg
–
234
100065
Food Service
Cash & Carry
30 g (25 g + 5 g de sauce
50
1,5 kg
6
216
100067
Food Service
25 g (20 g + 5 g de sauce)
1,25 kg
–
234