NIKUMAN
Chicken and vegetable-filled bun, cooked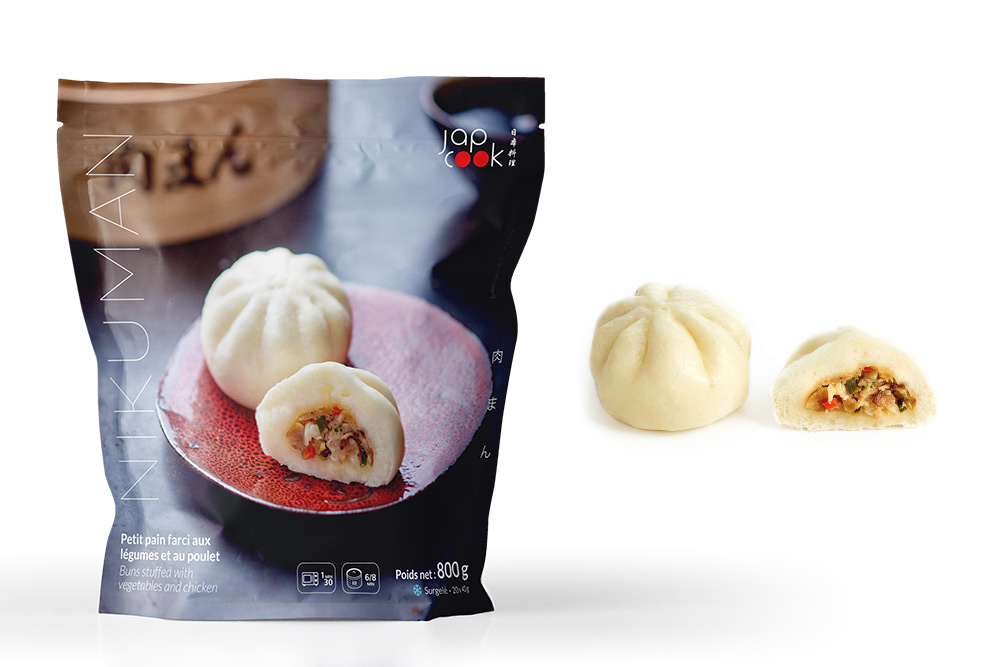 INGREDIENTS
DOUGH, 60% :wheat flour, water, sugar, rice oil, yeast, salt
FILLING, 40% : chicken meat 20%, vegetables (cabbage, carrot, spring onion, onion, garlic), sugar, soy sauce (fructose syrup, soya,water, molasses, salt, wheat, yeast), wheat flour, sesame oil, spice: ginger, salt, pepper
Microwave
Place 2 frozen nikuman in a suitable container.
Heat uncovered with 1 glass of water for 1 min 30.
Steaming basket
Place the nikuman in a steaming basket without adding fat.
Place the basket over a pot of boiling water for 6 to 8 minutes.
Electric steamer
Fill the machine's tank with water.
Preheat the machine to 75°C (depending on the model).
Place the frozen nikuman on the grills, leaving a space between them.
Heat for at least 30 mins.
Frozen
Store at -18°C – Store between 0 and 4°C once defrosted
CONDITIONNEMENT
Information not available on mobile
Ref
Target market
Weight/unit
No. of pieces/SKU
Net SKU weight
No. of SKUs/box
No. of SKUs/pallet
120000
Food Service
Cash & Carry
40 g
20
800 g
8
352
300009
Retail
6
240 g
10
810