GYOZA TORI
Chicken and vegetable dumplings, cooked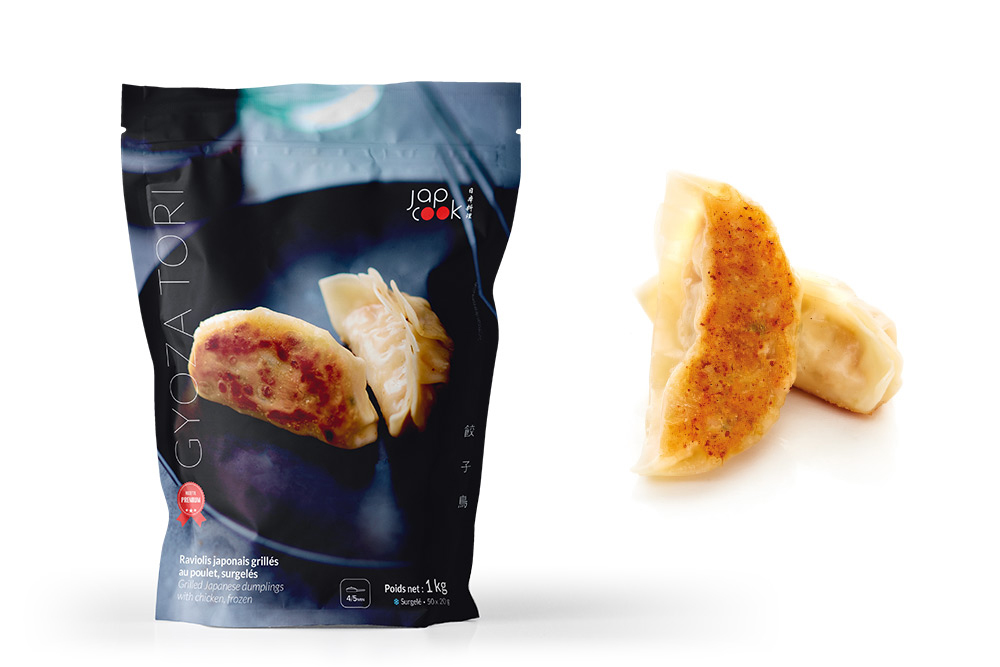 INGREDIENTS
FILLING, 70% : vegetables (cabbage, onion, chives, garlic), chicken breast meat 20%, soya oil, wheat flour, soy sauce (water, soya, wheat, salt, alcohol), sugar, hydrolysed vegetable proteins (maize, soya), salt, pepper
GYOZA DOUGH, 30% : wheat flour, water, thickeners ( modified starch E1420, xanthan gum E415), tapioca starch, soya oil
Serve the gyoza with a salty soy sauce.
Frying pan
Place 5 gyoza in a hot frying pan, grilled side down and without adding any fat.
Add 5 tablespoons of water.
Cover and reheat for 3 mins on a low heat.
Once the water has evaporated, leave to cook for 2 mins until crispy.
Steaming basket
Place the gyoza in a steaming basket without adding any fat.
Place the basket over a pot of boiling water for about 6 mins.
Deep fryer
To enjoy fully fried gyoza, heat the oil to 180°C and fry for 2 to 3 mins.
Origin
Chicken : Thaïland
Does not contain
flavour enhancer
Frozen
Store at -18°C – Store between 0 and 4°C once defrosted
CONDITIONNEMENT
Information not available on mobile
Ref
Target market
Weight/unit
No. of pieces/SKU
Net SKU weight
No. of SKUs/box
No. of SKUs/pallet
GRILLED
170006*
Food Service
Cash & Carry
20 g
50
1 kg
10
420
300004*
Retail
20 g (+ 20 g de sauce)
8
180 g
18
1440
NOT GRILLED
170004
Food Service
22 g
50
1,1 kg
10
420
170011*
20 g
1 kg