YAKISOBA
Wheat noodles with vegetables, cooked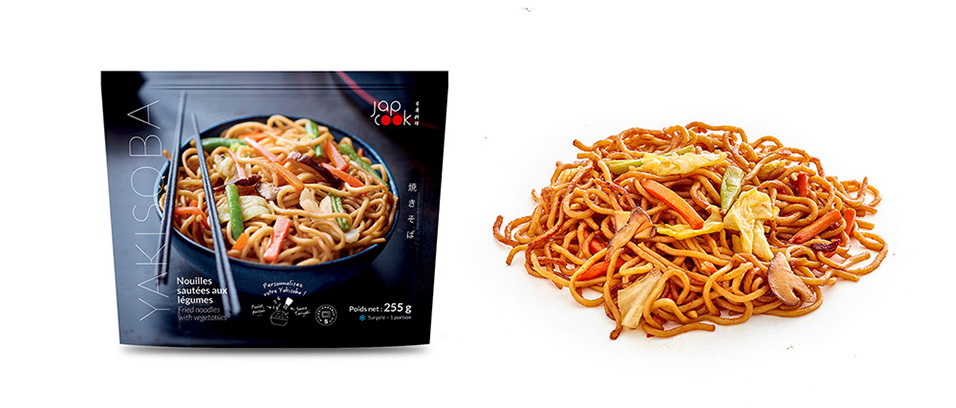 INGREDIENTS
Yakisoba noodles, 57% (wheat flour, water, salt, acidifier: sodium carbonate E500i), vegetables ( carrot, cabbage, green beans, Shiitake mushrooms, garlic, onion, tomato), soy sauce (water, sugar, soya, salt, wheat, molasses), rice, sesame and clove oils, water, vinegar, spices (chilli, liquorice, cinnamon, mustard, clove ), brown and caramelised sugar, thickener: xanthan gum E415, salt, pepper
It is best to defrost the noodles before reheating them in order to maintain their organoleptic properties
Microwave
Open the packet and place the frozen yakisoba noodles in a suitable dish.
Heat at 900W for 5 mins.
Stir halfway through to prevent them from sticking together.
Frying pan
Place the yakisoba noodles in a hot frying pan with a little fat and 5cl of water.
Warm on a medium heat for 10 -12 mins, stirring regularly.
Does not contain
flavour enhancer
Frozen
Store at -18°C – Store between 0 and 4°C once defrosted
CONDITIONNEMENT
Information not available on mobile
Ref
Target market
Weight/unit
No. of pieces/SKU
Net SKU weight
No. of SKUs/box
No. of SKUs/pallet
160001
Food Service
Cash & Carry
Retail
255 g
1
255 g
24
2016