YAKI GYU CHIZU
Beef skewer with cheese, cooked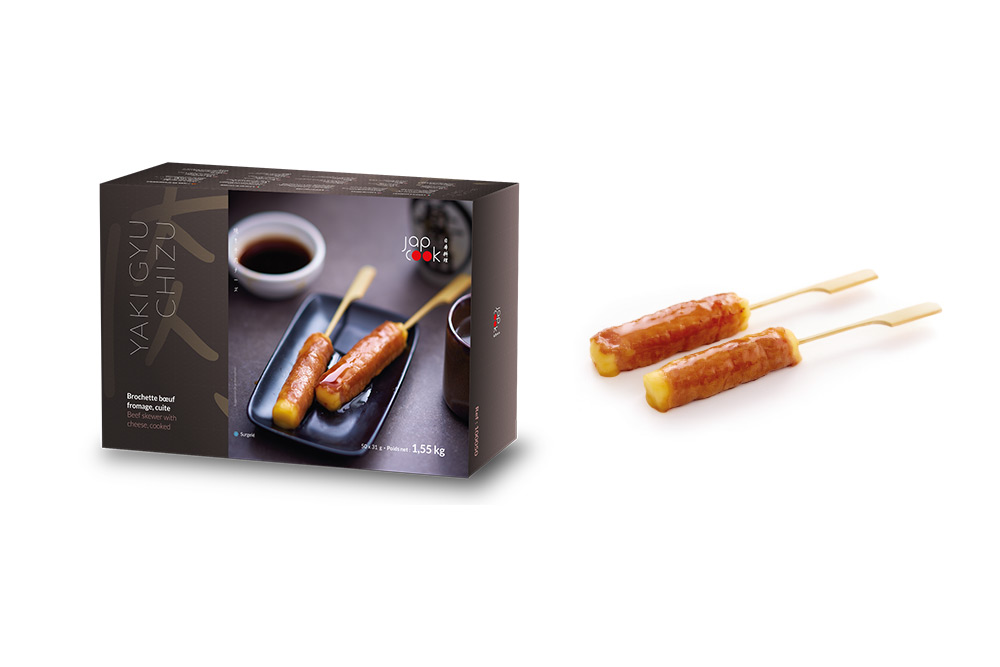 INGREDIENTS
PUREN (PLAIN)*: gouda 68% (milk, salt, lactic ferment, rennet), beef 32%
TARE (COATING)** : sweet soy sauce 11% (soy sauce (water, soya, wheat flour, salt), glucose-fructose syrup, sugar, water, acidifier: lactic acid E270, thickeners: modified starch E1414, xanthan gum E415; preservative: potassium sorbate E202)
You can coat the Puren skewers yourself with a sweet soy sauce.
Microwave
Place the skewers in a suitable container and refrigerate at 0 to 4°C for 4 hours.
Once defrosted, reheat the 2 skewers at 900W for 1 min.
Oven
Pre-heat your oven to 180°C (gas mark 6).
Arrange the skewers on a baking tray lined with greaseproof paper. Place in the middle of the oven and cook for 6 to 10 mins.
Frying pan
Place the skewers in a hot pan with a little fat. Reheat the skewers on a medium heat for 5 to 6 mins, turning regularly to ensure that the cheese melts while remaining inside the meat.
Lower the heat if necessary.
Origin
Beef: Italy, Spain, France – Gouda : EU
Does not contain
flavour enhancer
Halal
Raw materials and production site both
certified
Frozen
Store at -18°C – Store between 0 and 4°C once defrosted
CONDITIONNEMENT
Information not available on mobile
Ref
Target market
Weight/unit
No. of pieces/SKU
Net SKU weight
No. of SKUs/box
No. of SKUs/pallet
PUREN
(PLAIN)
100050*
Food Service
Cash & Carry
31 g
50
1,55 kg
–
208
100050-00-01*
Cash & Carry
6 (ready to sell)
288 (American pallet)
300000*
Retail
31 g (+ 40 g of sauce)
6
226 g
10
1120
TARE
(COATED)
100047**
Food Service
35 g (31 g + 4 g of sauce)
40
1,4 kg
–
234
100056**
25 g (20 g + 5 g of sauce)
50
1,25 kg